The Chocolate Touch
by
Patrick Skene Catling
Published by
HarperCollins
on 2006
Genres:
Middle Grade
Pages:
125
Format:
Paperback
Source:
Bought
Buy the Book
•
In a laugh-out-loud hilarious twist on the legend of King Midas, a boy acquires a magical gift that turns everything his lips touch into chocolate. Can you ever have too much of your favorite food? John Midas is about to find out….

First published in 1952, The Chocolate Touch was an instant classic—and has remained a timeless favorite with kids, teachers, and parents.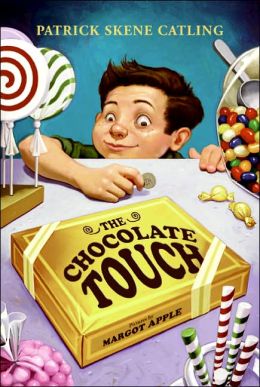 The Chocolate Touch is a great book. I finished it in one day! It is a book of mystery, excitement , and fun. I loved this book! John Midas  loves candy specifically Chocolate , when he finds a strange coin and a strange shop this happens…… He kissed her wet cheek, his eyes shut as his lips softly her so he did not see the change right away then his lips began to feel sticky he opened his eyes. His mom had turned to a lifeless statue of chocolate!….. you will have to get the book if you want to find out more.- E, age 10
About the Author
Patrick Skene Catling (born 14 February 1925) is a British journalist, author and book reviewer best known for writing The Chocolate Touch in 1952. He has written 12 novels, 3 works of non fiction and 9 books for children.